Many times you may have wanted to change the icon to a folder under Windows. 
The default choice, however, is often poor, with icons that refer to the years of Windows XP. 
There is, however, a little trick that allows us to quickly explore all the new system icons.

In the little window for the icon selection, edit the address bar and put one the following names:
replace
SHELL32.dll

with
  imageres.dll
or
  moricons.dll
or
  powercpl.dll 
and press Enter.
At this point a much wider view of the icons will appear and you can choose the design best suited to your purpose. 
Example: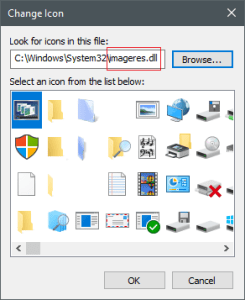 Here is a complete list of Windows icon paths: 
C:\Windows\System32\shell32.dll

 





C:\Windows\System32\imageres.dll

 





C:\Windows\System32\moricons.dll

 





C:\Windows\System32\powercpl.dll